Image
We proudly open Support to Life 360 to be a circle that brings together you valuable humanitarian professionals, enthusiasts, and anyone who wants to improve humanity.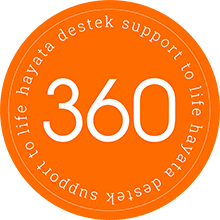 With Support to Life 360, our educational platform that we have dreamed of for a long time, we aim to offer a 360-degree view of humanity's problems and their improvement. We are excited to contribute to the self-healing cycle of nature and humans and to spread the knowledge of solidarity and humanitarian aid. Thank you for your contribution to the accumulation of this experience with your work and presence in every field we work with.
From now on, we are at 360.hayatadestek.org with our trainings to share more and enlarge our circle. You can register on our platform and participate in our trainings.