Image
Digitalization and digital literacy were among the frequently discussed topics in the COVID-19 pandemic, which became a part of our lives since last December and changed our daily habits significantly. In the days that we stayed home as a result of the precautions taken for the coronavirus crisis, the pandemic accelerated the digitalization process. With the effect of the outbreak, trainings were made remotely, meetings were held with video conferences.
In the pandemic, which has been affecting the whole world for a long time, countries are gradually loosening the measures after the decline in COVID-19 cases, however it is said that many things will no longer be the same. One of the things that will be different than before is of course our digital usage habits that we experienced in this process.
We carried out a small study with the beneficiaries of the BİRLİKTE Institutional Support Program, which is supported by the European Union and executed by us, to learn the digital experiences of civil society organizations in the coronavirus crisis. Within the scope of the Program with 42 beneficiary organizations we also collected the information that we received from the organizations in an information note.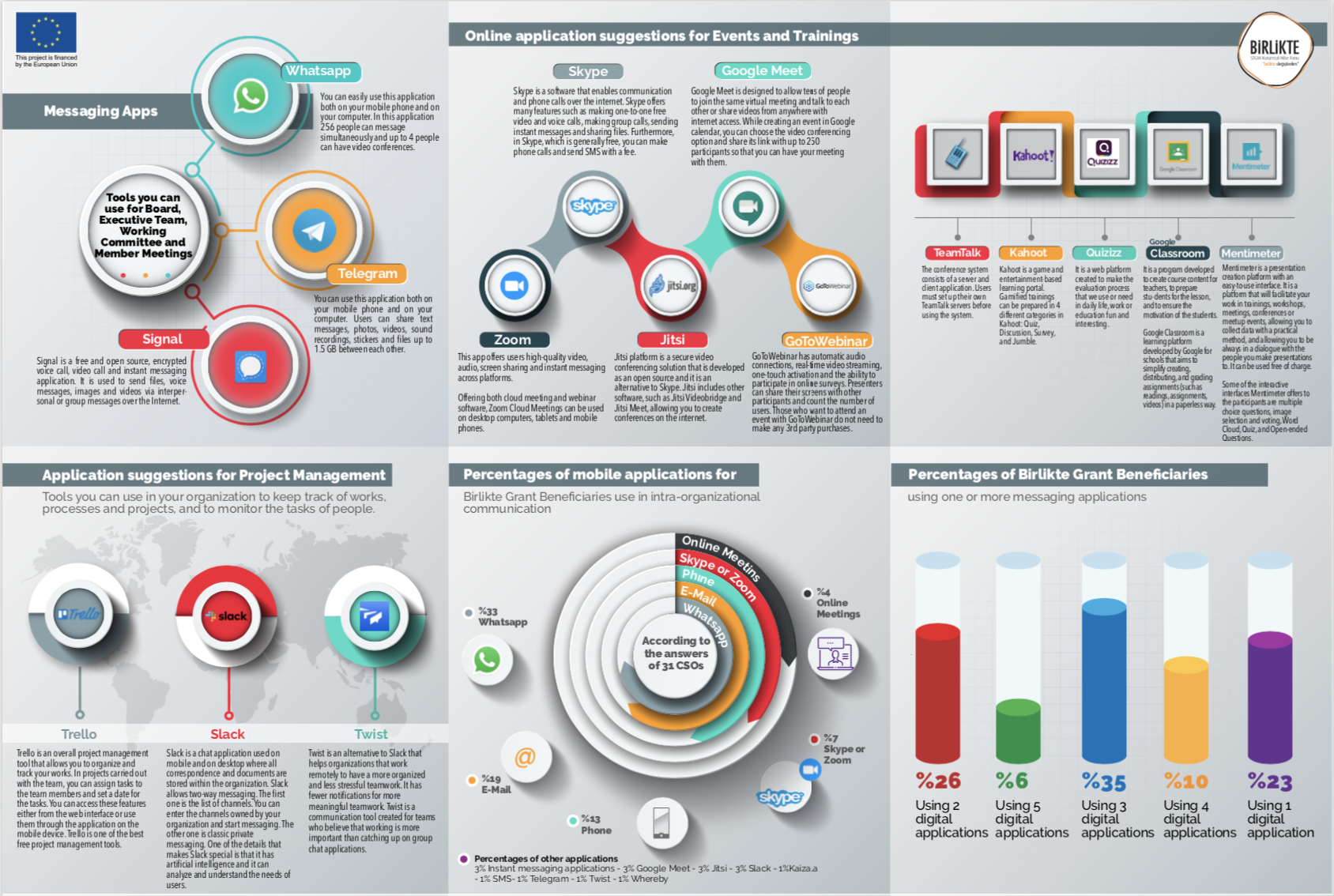 For the study, we received responses from 31 of the 42 civil society organizations that are the beneficiaries of BİRLİKTE.
The beneficiary CSOs of BİRLİKTE mainly preferred WhatsApp and e-mail as an intra-organizational communication method during the COVID-19 pandemic process, while Facebook and Instagram were the preferred social media platforms.

In the online meeting tools category, Skype took the first place with 30 percent, followed by Zoom application with 26 percent. For the BİRLİKTE beneficiaries, the Google Meet application was another preferred tool in the pandemic process.
The information note also includes tools that CSOs can use for intra-organizational communication, project management, events and online training.