Image
Media and Law Studies Association (MLSA) and Heinrich Böll Stiftung Association Turkey Representative are organizing an online training program titled "Law for All" between 5 July - 8 August.
The program consisting of 10 courses, which will be open to the applications of civil society workers, lawyers, and people interested in human rights, will be held with 30 participants selected from among the applications.
The first two hours of lectures and the last one of which are planned to be held as discussion and question-answer, will each last three hours.
Participation in the program is compulsory, and participants who are found successful by the trainers will be given a certificate of participation at the end of the program. Participation in the program is free.
You can make your applications through the online application form until July 2, 2021.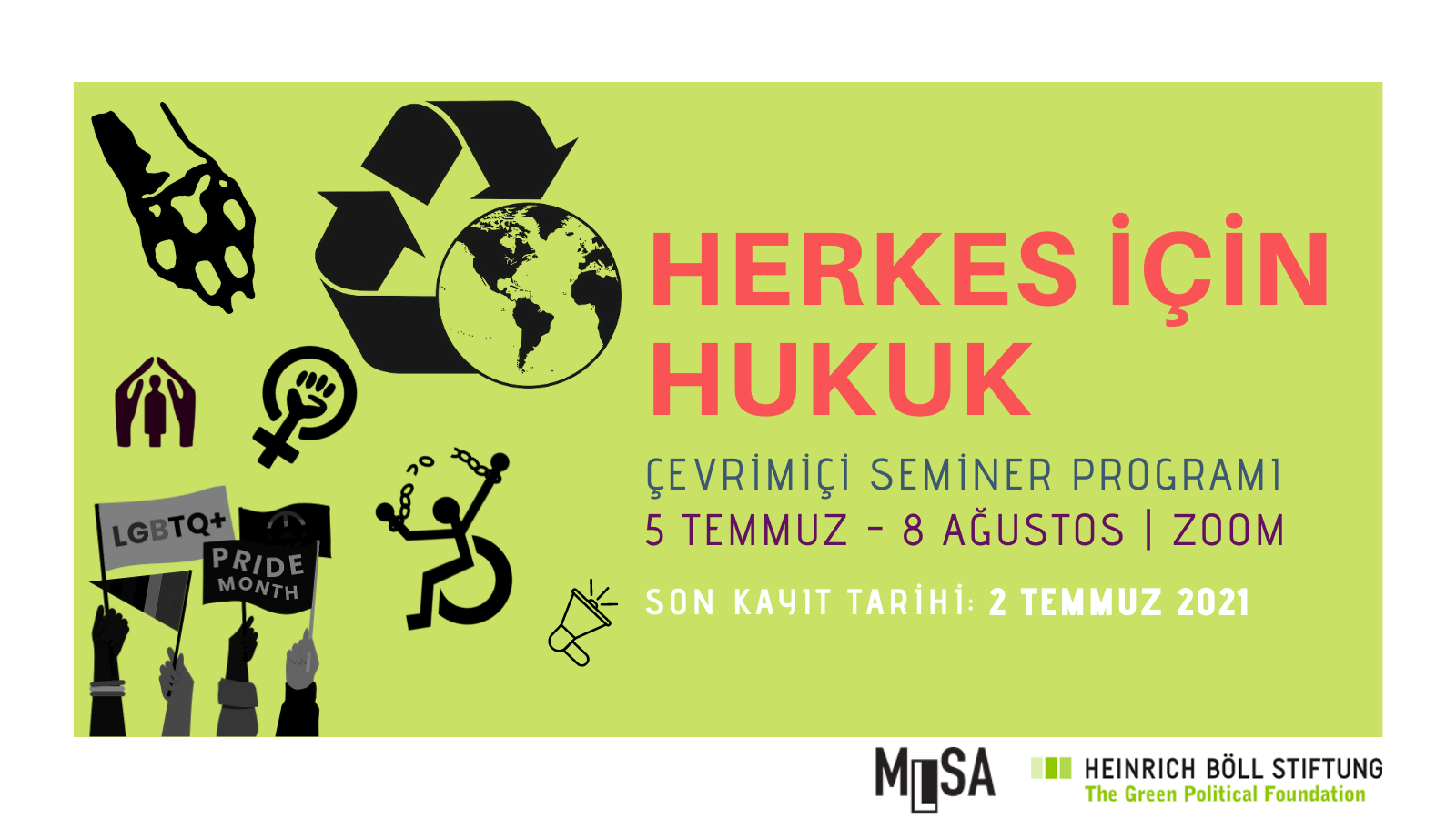 The names that will run the classes that will take place on Zoom for four weeks are as follows:
Att. Benan Molu: Attorney affiliated with the Istanbul Bar Association
Dr. Engin Arıkan: Lecturer at the Turkish-German University Faculty of Law
Dr. İdil Işıl Gül: Lecturer at Istanbul Bilgi University Faculty of Law
Dr. Rıza Türmen: Former Ambassador, Judge of the European Court of Human Rights and 24th Term CHP İzmir Deputy
Dr. Serkan Köybaşı: Lecturer at Bahçeşehir University, Faculty of Law, Department of Constitutional Law
Dr. Tolga Şirin: Lecturer at Marmara University Faculty of Law, Department of Constitutional Law
Att. Tuğçe Duygu Köksal: Attorney at the Istanbul Bar Association, head of the Istanbul Bar Association Human Rights Center
Att. Veysel Ok: Lawyer of Istanbul Bar Association, Co-Director of Media and Law Studies Association
Program:
July 5, 2021, │ 10:00 │ Riza Türmen
International Human Rights Law and Protection Mechanisms
6 July │ 10:00 │ Assoc. Dr. Tolga Sirin
Constitutional Protection of Fundamental Rights and Freedoms
9 July │ 10:00 │Av. Benan Molu
The Role of the ECtHR and the Constitutional Court in Human Rights Judgment
The date and trainer will be announced later │ 10:00
Freedom of Association of Civil Society and Human Rights Defenders
16 July │ 10:00 │ Av. Veysel Ok
Freedom of Expression and Citizen Journalism in Social Media
The date and trainer will be announced later │ 10:00
National and International Protection of Women's and LGBTI+ Rights
28 July │ 10:00 │ Av. Tugce Duygu Koksal
Refugee Law and Asylum Seekers
30 July │ 10:00 │ Idil Isil Gul
Human Rights of Persons with Disabilities
August 3 │ 10:00 │ Dr. Engin Arikan
Animal rights
August 4 │ 10:00 │ Dr. Serkan Koybasi
Environmental Right