Image
You are invited to the Climate Talks Hello Summer Special Session Nature Calendar. The event will take place on Monday, June 21, from 17.30-18:45.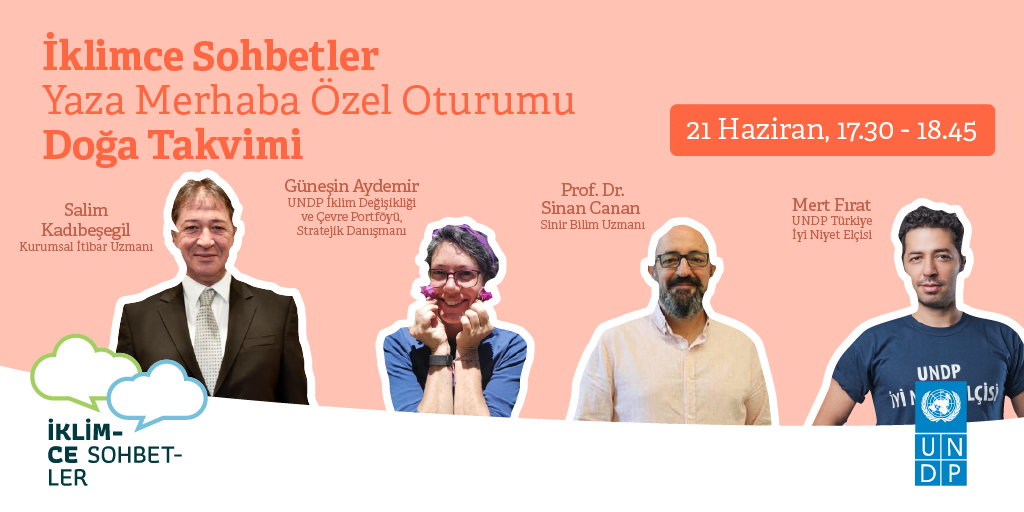 Anthropocene is a concept derived to express our age, which deals with the impact of humans on the earth from physiological, geological, geographical, cultural, and social aspects. It is used on the same level as other words expressing the phases of our world that we see by looking at its geological layers during its 4.5 billion-year life. But with an important difference; The dominance of a species that can be considered quite young in the biological evolution of the planet makes this age the Human Age.
Climate is the sum of nature's services. Even more than the total. Nature has a time. Natural events have a rhythm, a pattern. Nature's calendar offers people opportunities to re-understand life in harmony with nature and to find solutions. We understand from nature that the climate is changing. Adapting to the changing climate will also be by looking at nature.
The Human Age does not manifest itself only in ecological destruction. It also shows with destructions in all layers including human - psychological, cultural, sociological, economic, political. The Human Age promises us - ourselves - an age of destruction. The most obvious antithesis of the Age of Destruction is; repair. Repairing destruction seems to be the solution to the problems of this age.
Perhaps it would be good to start the repair process by repairing our relationship with the two most fundamental phenomena of nature (time and space). Repair is possible to the extent that the humans' calendar and perception of time are compatible with nature's calendar and nature's time. We believe that; Talking about the Anthropocene, Anthropocene dynamics, and climate change in the context of the nature calendar and the concept of time in nature will make a difference in our perspectives.
To our online event, which will be moderated by UNDP Goodwill Ambassador Mert Fırat, Corporate Reputation Specialist Salim Kadıbeşegil, Neuroscientist Prof. Dr. Sinan Canan, and UNDP Turkey Climate Change and Environment Portfolio Strategic Advisor Güneşin Aydemir will attend as speakers.
Click the link to register.