Image
Registration has been opened for the External Academy program, which will take place between 30 May and 4 July, organized by the Media and Legal Studies Association (MLSA).
The registration period has started for the External Academy * organized by MLSA.
Over the past year, university life has turned into a troubling process for many of us. Pandemic conditions still do not allow physical assembly. In this process, when we realized that the random encounters on campus fed us mentally; More or less, following routine work, we got tired, questioned the knowledge we had acquired, and did not have the opportunity to conduct academic discussions based on these.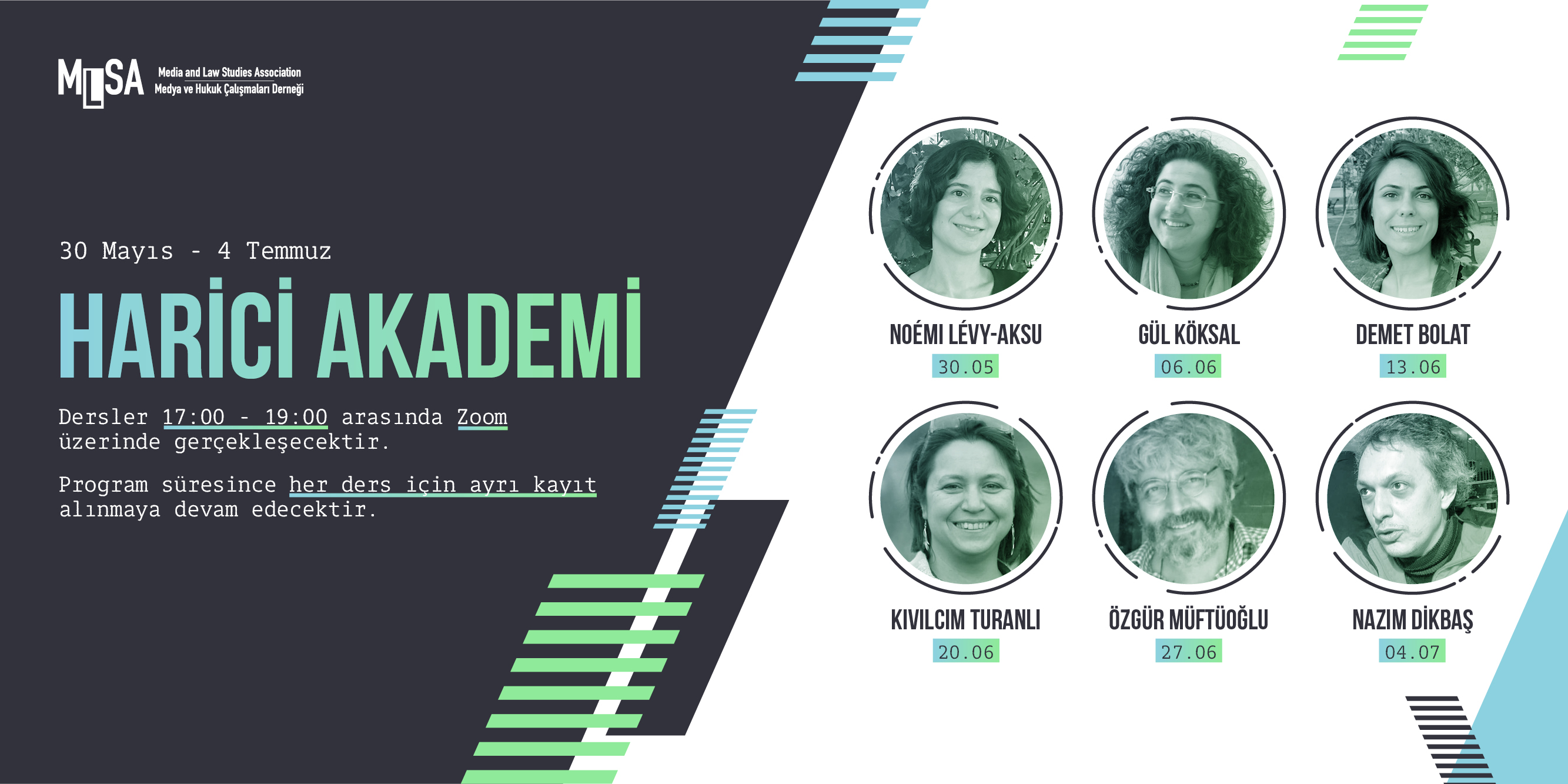 As MLSA, we aim to provide a discussion platform for the participants who will come together at the External Academy, where they can express themselves comfortably and have the opportunity to develop themselves through communication with people from different disciplines.
You can fill out this form to register with the External Academy.
The names of the classes that will take place at Zoom every Sunday between 17:00 and 19:00 for six weeks are as follows: Noémi Lévy-Aksu, Gül Köksal, Demet Bolat, Kıvılcım Turanlı, Özgür Müftüoğlu, Nazım Dikbaş.
Program details:
30 May
Beyond academic freedom: Universities as an area of ​​intervention and struggle
Noémi Lévy-Aksu
June 6
From hegemony to resistance: the right to the city in theory and praxis
Gül Köksal
June 13
How is the gender opposition reflected in the academy?
Demet Bolat
20 June
Human rights beyond the norm: Struggles, possibilities
Kıvılcım Turanlı
June 27
The pandemic turned into an opportunity and the "new generation" working regime: Are we ready to fight?
Ozgur Muftüoğlu
4th of July
Art: Are we continuing to learn?
Nazim Dikbas
Who can participate?
The target audience of the program consists of people between the ages of 18-30 who have not lost their ties with the university. Participants are expected to read at least one week before each session, which will be sent to them and not exceeding 40 pages. Participation certificates will be given to those who follow the program regularly.
Those who want to join the External Academy are kindly requested to fill in the registration form until Sunday, May 23, 17:00. Readings will be sent to the participants by email 1 week before each lesson.
* This workshop is carried out with the support of the National Endowment for Democracy.