Image
The Freedom of Belief Initiative invites you to the "Freedom of religion or belief and gender equality" webinar that will be held on Thursday, July 1 at 19.30.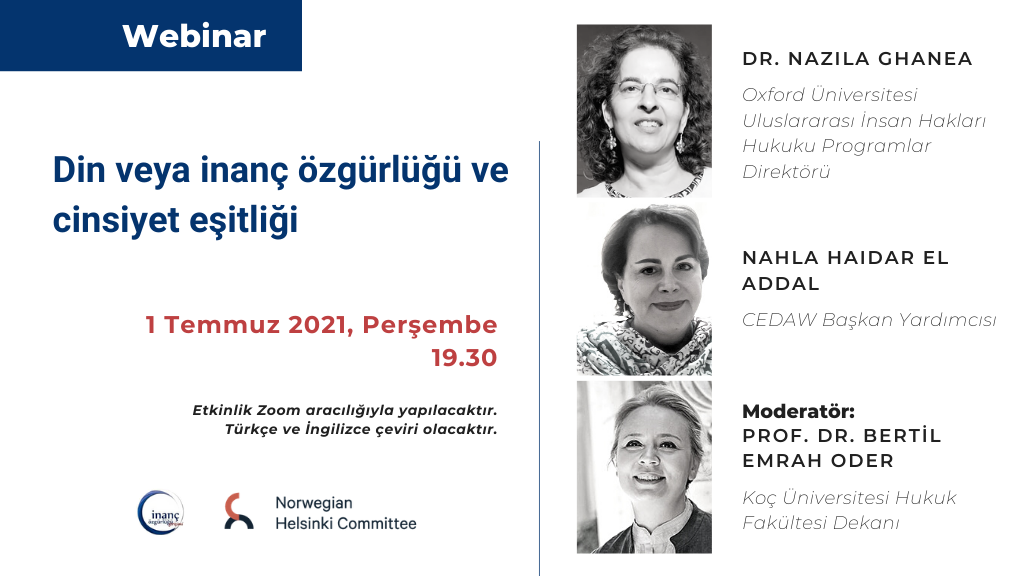 The language of the event will be Turkish and English. There will be simultaneous translation in both languages.
You can register for the event to be held via Zoom until 12.00 on Thursday, July 1st. Please click to register.
The webinar access link will be sent before the event.
There is a widespread perception that women's rights and freedom of religion or belief are conflicting and contradicting rights. In the webinar, where these two right areas will be evaluated together, the right to freedom of religion or belief will provide an area to be protected from restrictive and discriminatory traditions and norms.
We will speak with the Director of International Human Rights Law Programs at Oxford University, Dr. Nazila Ghanea, and Deputy Chair of the UN Committee on the Elimination of Discrimination against Women (CEDAW), Nahla Haidar El Addal, about what can be done to ensure freedom of religion or belief and gender equality together, and how these two intersecting right areas can have strengthening effects for each other. The moderator of the webinar is Koç University Faculty of Law Faculty Member and Dean Prof. Dr. Bertil Emrah Oder.
For questions about the event, you can write to [email protected] e-mail address.
More information can be found here.