Image
As the Social Climate Association, the Izmir 2030 Biodiversity Youth Ambassadors Program, which we will organize in cooperation with the French Embassy in Turkey and Izmir Metropolitan Municipality, begins!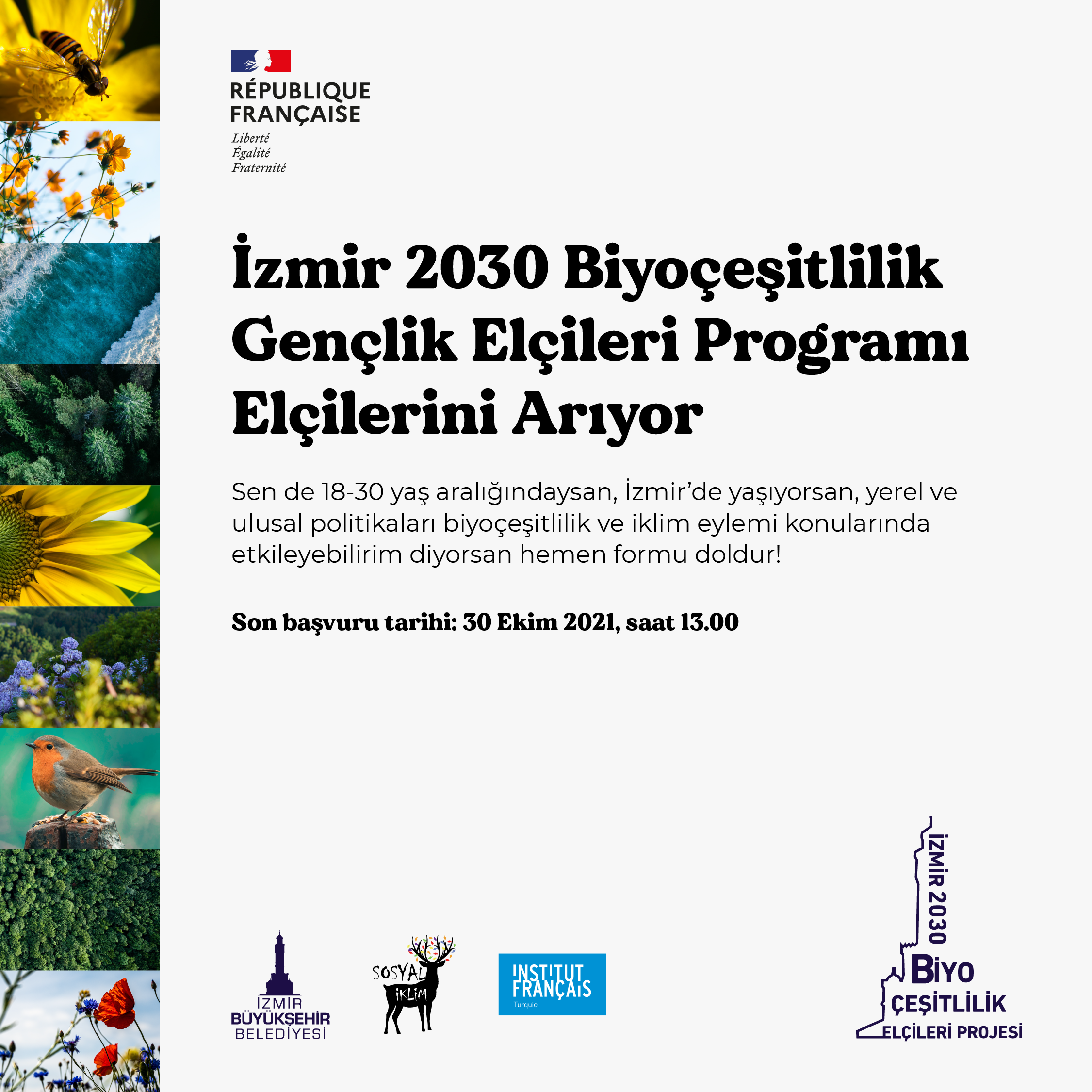 Within the scope of the program, it will be carried out with 40 ambassadors from Izmir. Biodiversity Ambassadors are expected to attend 9 training sessions and attend 3 workshops, both face-to-face and online. After these training, Biodiversity Ambassadors are expected to expand the training they have received in French schools, universities, Coastal Aegean Climate Network, and İzmir Sustainable Urban Development Network in İzmir.
If you are between the ages of 18-30, live in İzmir, and say that you can influence local and national policies on biodiversity and climate action, fill out the form now!
Face-to-face training within the scope of the program:
Biodiversity Concept,
The Climate Crisis and the Sixth Extinction,
Ecology Literacy,
Climate Advocacy and Biodiversity Policies Under the Global Goals, COP26 and Paris Agreement,
Effects of Biodiversity and Climate Crisis on İzmir Cultural Heritage,
2030 France Biodiversity Vision,
Youth Action Simulation on the Climate Crisis (experience before and after COP26),
Online training:
Urban Ecology and Biodiversity,
International Action on Biodiversity and the Nagoya Protocol,
Workshops: 
Nature Photography and Bird Watching at Alsancak Kültürpark,
Effects of the Climate Crisis and Impact of Endemic Species in the Peninsula Basin (Urla, Çeşme, Karaburun) and Seferihisar),
Ege University Botanical Garden Visit and Flora Presentation.
At the end of the program, a photography exhibition will be held with the photographs taken by the ambassadors in the workshops.
Application Deadline: October 30, 2021, 13.00
To access the application form click here.
About the Program:
With the Izmir 2030 Biodiversity Youth Envoys Programme, it is aimed to influence local and national biodiversity policies and practices, to raise awareness of local civil citizens, local governments, non-governmental organizations, schools, and other institutions on the diversity of the ecosystem and climate action, to increase youth participation in local biodiversity studies and to support local actors. It is aimed to develop cooperation in this field.
About the Social Climate Association:
Social Climate Association, which was established in İzmir in 2014 to develop a culture of dialogue among young people by putting nature at the center, and to ensure active participation of young people in social life and civil society; She continues her studies in the fields of Sustainable Development Goals, climate crisis, children's rights, gender equality, and youth rights.
For detailed information: [email protected]