Image
Türkiye'de Katılımcı Demokrasinin Güçlendirilmesi: Toplumsal Cinsiyet Eşitliğinin İzlenmesi Projesi'nin ikinci aşaması, 2 Ocak 2020 tarihi itibariyle Cinsiyet Eşitliği İzleme Derneği (CEİD) tarafından uygulanmaya başlanmıştır. Kısa adı CEİDizler olan Proje, Cinsiyet eşitliğine odaklanan sivil toplum örgütlerinin gösterge temelli izleme kapasitelerini ve farkındalıklarını artırmak; hak temelli izleme yapan örgütlerin cinsiyet eşitliği bakış açısını izleme çalışmalarına katmalarını sağlamak; yerel yönetimlerin politikalarını oluşturma, uygulama ve izleme süreçlerini toplumsal cinsiyet eşitliği perspektifiyle sunmalarını desteklemek ve her alanda cinsiyet eşitliğine ulaşılması için göstergeye dayalı cinsiyet eşitliği izleme yaklaşımının sivil örgütler, yerel yönetimler ve kamu tarafından benimsenmesini teşvik etmek amacıyla tasarlanmıştır.
Strengthening Participatory Democracy in Turkey: The second phase of the Monitoring Gender Equality Project has started to be implemented by the Gender Equality Monitoring Association (CEID) as of January 2, 2020. The project, whose short name is CEIDizler, is designed to increase the capacity and awareness of non-governmental organizations focusing on gender equality based on indicators; to ensure that organizations carrying out rights-based monitoring include a gender equality perspective in their monitoring activities; to support local governments to present their policy-making, implementation and monitoring processes with a gender equality perspective and to encourage the adoption of the indicator-based gender equality monitoring approach by civil organizations, local governments, and the public to achieve gender equality in all areas.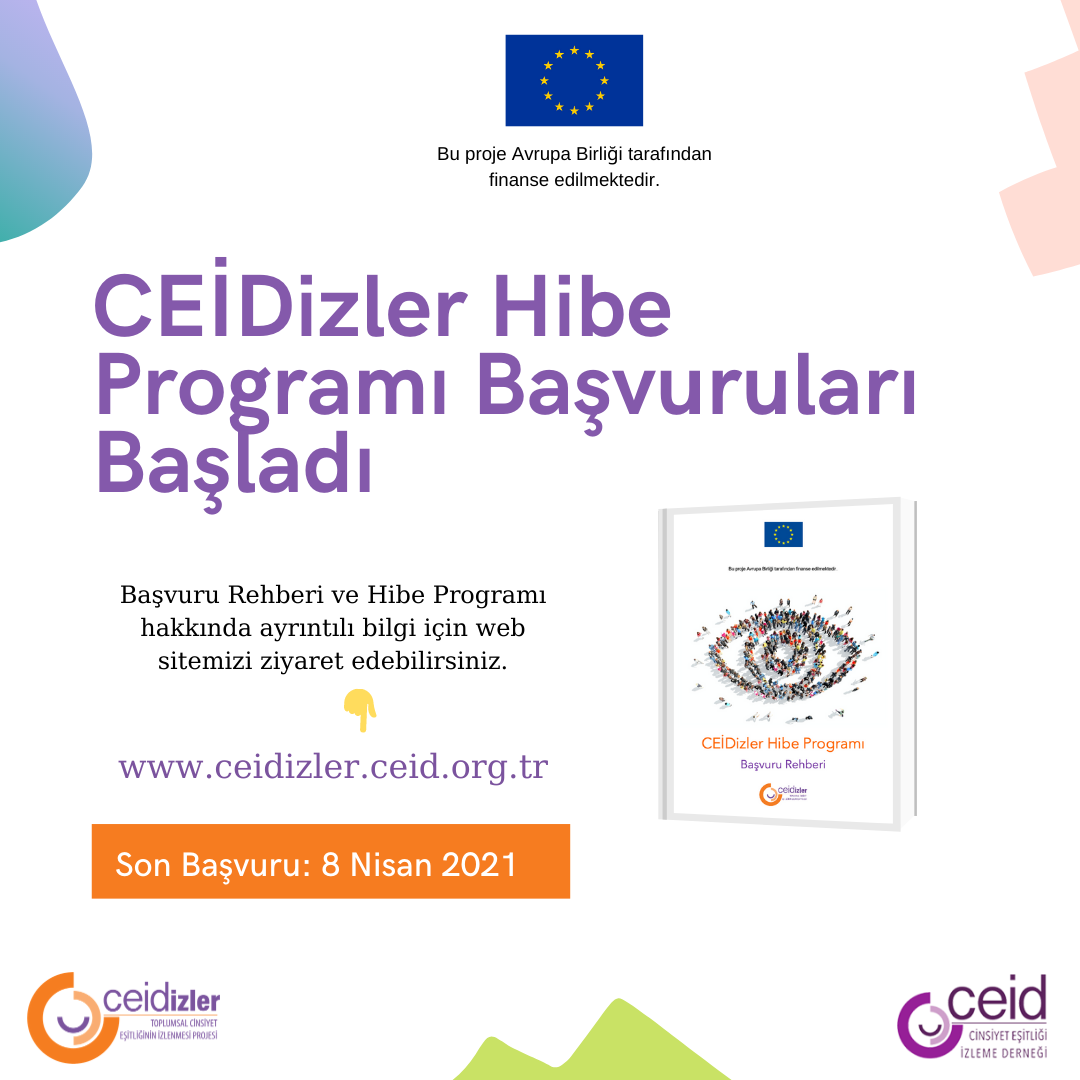 One pillar of this project is the CEIDizler Grant Program. With this grant program, CEID will provide financial support to increase and develop the activities of non-governmental organizations working on rights-based gender equality in the field of indicator-based monitoring to achieve more gender equality and participatory democracy in Turkey. The program aims to support the work of the project target groups to monitor gender equality with indicators and to strengthen their advocacy activities in this area.
Within the scope of the CEIDizler Project financed by the European Union, applications for the CEIDizler Grant Program have started, which aims to develop capacity, cooperation, advocacy, tools, and mechanisms for Indicator-Based Monitoring of Gender Equality.
Financial support will be provided to projects on Indicator-Based Monitoring of Gender Equality through the CEIDizler Grant Program. In the program where non-governmental organizations operating in the project target provinces will be applicants; associations, foundations, local equality monitoring platforms (YEIP), bar associations, professional organizations, trade unions, universities or research institutions, unions, unions, cooperatives, and federations can participate as co-applicants. Municipalities, on the other hand, can be involved in projects as participants.
The total budget of the CEIDizler Grant Program is 400,000 Euros, the lower limit for grant applications is 10,000 Euros and the upper limit is 40,000 Euros. The duration of the grant projects should be a minimum of 6 and a maximum of 15 months.
The application forms published on the website will be prepared in Turkish in the computer environment and the printed applications must be delivered to the CEIDizler Project Office before 8 April 2021 by courier or hand delivery. Applications filled in by hand or submitted after the deadline will not be accepted. You can access the application guide, forms, and budget format on the CEIDizler Project website 👉 https://ceidizler.ceid.org.tr/Hibe-Programi-i44
You can send your questions regarding the Grant Program and the application process to [email protected] by e-mail until 16 March 2021. The answers will be published on the websites in bulk on March 31, 2021.