Image
In the statement made by the Governorship of Istanbul on 23.08.2021; saying; "Unauthorized-unlicensed waste collection and separation activities in our city lead to especially environmental and public health problems, employment in informal and unhealthy conditions, and also causes public damage and unfair profits", while has been reported that 650 waste collection vehicles called rickshaws and 10 motorcycles without license plates were seized during the inspections carried out by the district governorships, mayors and district police departments in Bakırköy and Ümraniye districts.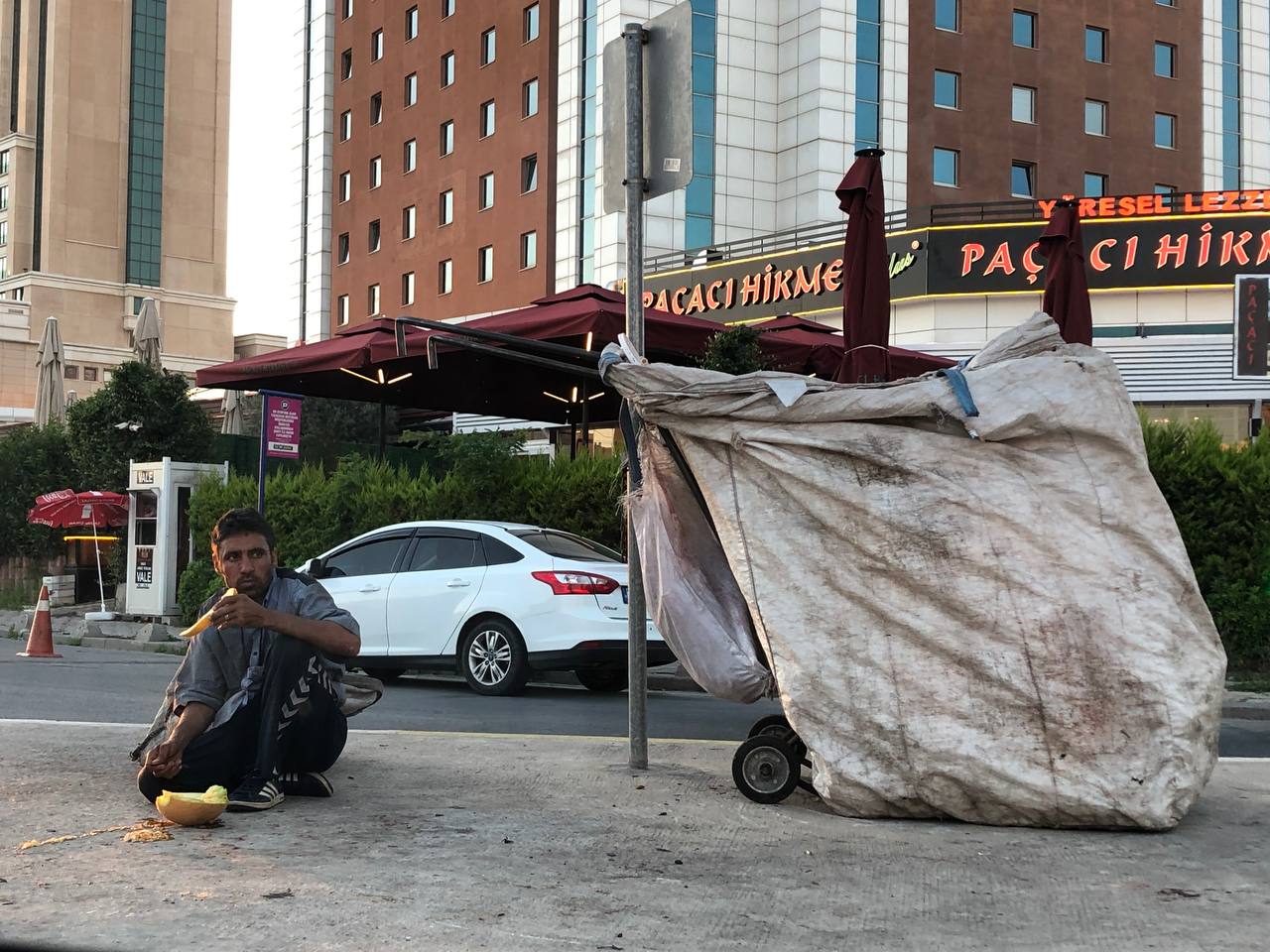 Fotoğraf: Ekin Çuhadar
It should be known that waste collectors are members of one of the business lines that experience the most social exclusion due to the low income of their work, unhealthy and unsafe conditions, and the social association of dealing with garbage with filth.

The poverty of waste collectors, whose earnings cannot even meet the basic needs such as food, drink, and shelter, includes absolute poverty, as well as being excluded from the society, problems in reaching rights, living without unions and social security, and being evaluated as unhealthy and disreputable while living under these severe poverty conditions. It is not something that can be ignored.
The discovery of garbage collection's profitability as a commercial commodity, and the sale of garbage through tenders have led to the attention of garbage collection, in other words, recycling. This has resulted in large enterprises preventing waste collectors from establishing a comfortable relationship with the garbage as before. In the past, the work of individuals who easily collected waste has turned into a sector whose rules are controlled by large enterprises.
We offer some suggestions for collectors who make a living by collecting waste and can find the opportunity to work in bad conditions, and invite everyone to take responsibility to be a part of the solution;
A commission consisting of public, private sector, municipalities, non-governmental organizations, and waste collectors should be established to solve the problems of waste collectors and to ensure work peace.
The commission to be formed should establish the necessary legal regulations and supply of resources for the safe and registered work of street collectors, especially occupational health and working conditions.
With the legal separation of waste collection and separation works, municipalities should create sanitary storage areas for waste collectors.
Large enterprises engaged in waste sorting should be provided with the necessary institutional arrangements to receive their waste directly from waste collectors.
Necessary resources should be provided for the construction of waste collection vehicles with vehicles that will not disrupt the traffic of the city. It should be preferred to use electric vehicles instead of hand rickshaws. Applications should be made to benefit from domestic or foreign resources and grants through municipalities for the vehicles to be purchased.
In the transition process, under the leadership of the relevant municipality, the participants should be paid daily wages by İŞKUR and teachers should be appointed by the Ministry of National Education, and a training program for waste collectors should be organized to ensure that the employees work as certified.
The solution of the problem should be accelerated by holding an emergency dialogue meeting where all the actors of the issue will come together.
In this process, urgent support should be provided through the Social Assistance Foundation for waste collectors who cannot do business, work, and earn their living with daily income.
In this sector, waste collectors who are already engaged in this business also have job security, and their health and safety should be taken into account. It should not be forgotten that garbage collection and sorting is beyond a commercial gain, it is an activity that contributes to sustainability, aims to protect the environment, and also requires social responsibility.
In this process, to develop an urgent and permanent solution, we demand the establishment of a permanent system by urgently implementing the above-mentioned suggestions.
We, as the Zero Discrimination Association and the Roma Dialogue Network (RODA), would like to announce that; we will stand by all waste collectors who are worried about being victimized and we will walk together in their struggle within the framework of the law. We will continue to produce concrete solution proposals at the local and national levels with all our means to eliminate grievances.