Image
Common Knowledge and Communication Association (TBID); continues its activities within the scope of the "Combating Digital Violence Project" carried out with the financial support of the United Nations Population Fund (UNFPA) Turkey, with a webinar titled "The Role of Civil Society in Combating Digital Violence" to be held on Sunday, April 11, 2021, between 15:00 and 17:00.
In the webinar, representatives of non-governmental organizations working in the field of gender will share their experiences on digital violence, their struggles, and their work on digital violence. Yıldız Tar from Kaos GL, İrem Öztürk from the Association for Combating Sexual Violence, İdil Kandil from the Women's Self-Defense Academy and feminist activist Nurcihan Temur will attend the "Role of Civil Society in Combating Digital Violence" webinar, where psychologist Nilay Abınık and academician Gülüm Şener are facilitators.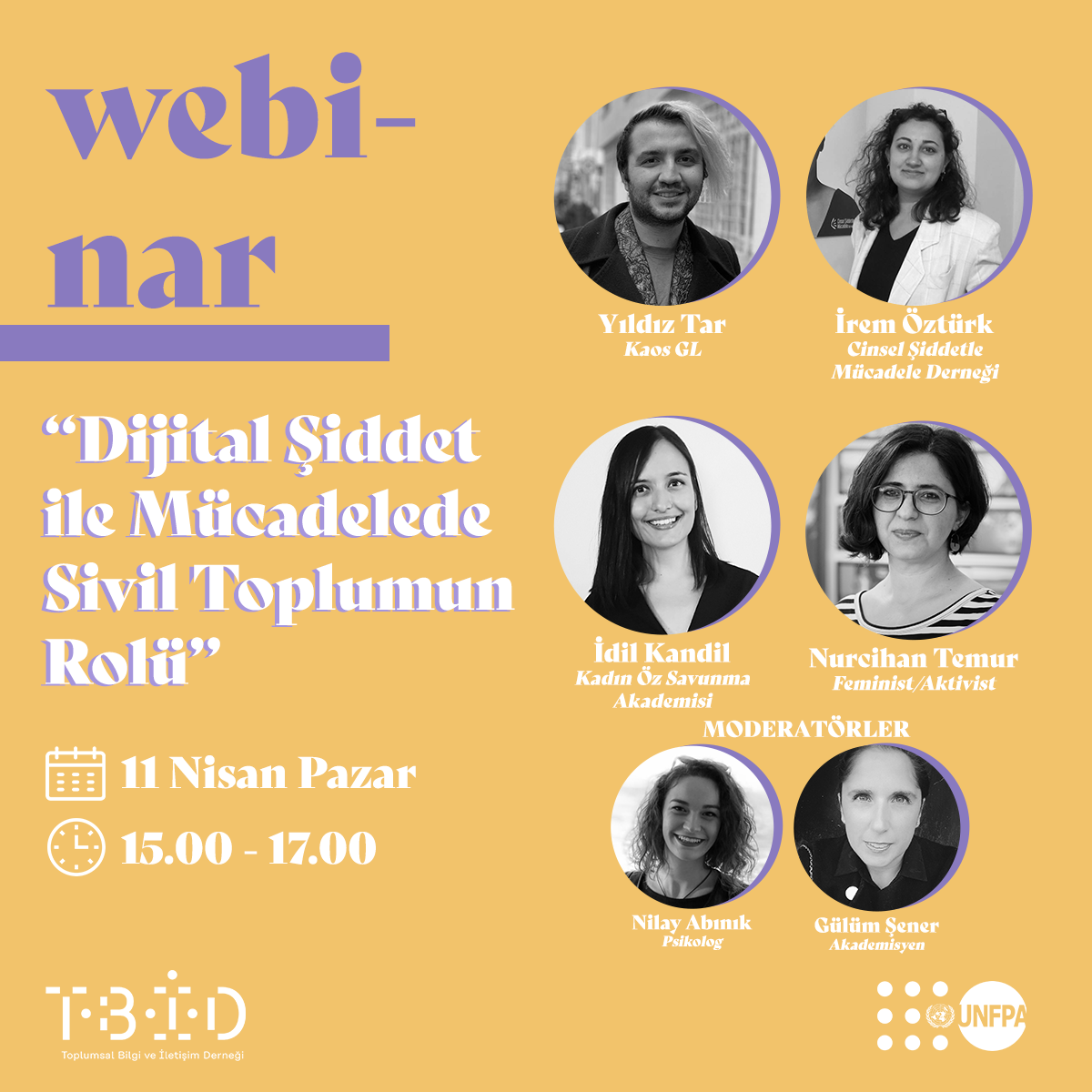 Click here to join the webinar.
With the "Combating Digital Violence Project", TBID aims to increase social awareness in the field of digital violence, to create a basis for the necessary legal regulations, and to implement practices to prevent digital violence, with the contributions of experts and academics working in the fields of law, psychology, communication, informatics, and digital security. TBID carries out a series of activities related to digital violence throughout the project. Legal, psychological and social dimensions of digital violence are discussed by experts in the monthly webinars on combating digital violence. In addition, informative posts are being shared on the project's Instagram and Twitter accounts. You can watch the webinars titled "Combating Digital Violence and Legal Methods" and "Psychological Effects of Digital Violence" on YouTube.