Image
Gender Equality Solidarity Network (AG-DA) launched a research and advocacy support program in memory of peace academician Eren Deniz Tol. The applications for the first period of the support, which will be distributed in three separate periods, were opened on August 2, 2021. The supports cover the research and advocacy activities that young researchers working in the field of gender equality will carry out together with non-governmental organizations. The application deadline is September 5, 2021.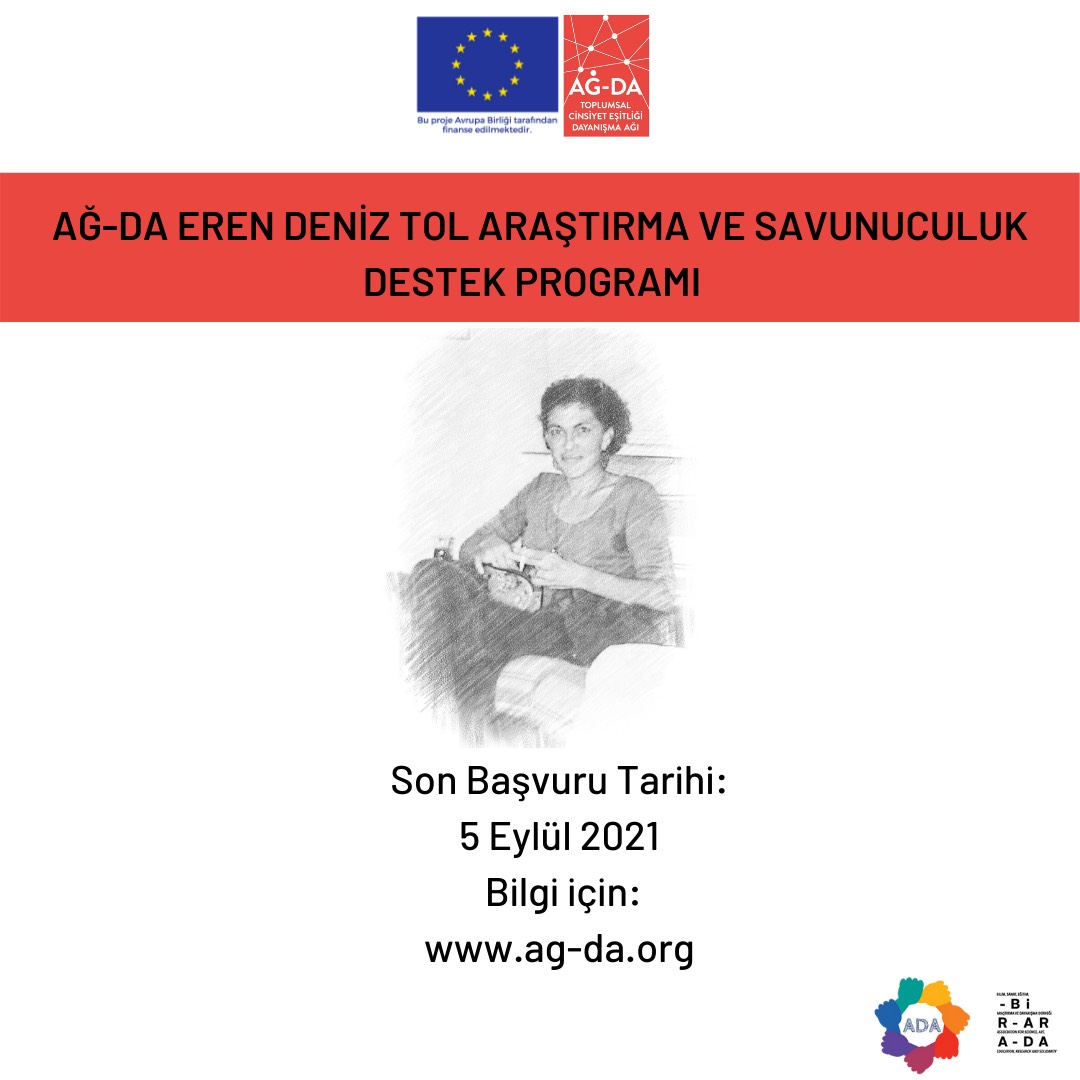 The program aims to strengthen the bond of young researchers with the experience and knowledge accumulated by civil society organizations in the field and to provide financial support to research and advocacy activities to be carried out in cooperation with researchers working in the field of gender equality and civil society organizations. The program supports; research or advocacy activities on gender equality, women's rights, LGBTI+ rights, and their intersecting rights areas (discrimination against women and LGBTI+s, rights of minority women, rights of refugee women, and LGBTI+'s, etc.) in Turkey. The proposed research or activity should be carried out by a researcher in cooperation with a civil society organization working in the field of gender equality or with an initiative, platform, similar formation operating in the field of gender equality, even if it does not have an institutional structure.
Graduate and doctoral students who are citizens of the Republic of Turkey and residing in Turkey, or researchers who have completed their doctorate within 7 years as of the application deadline, can apply to the program. Each applicant can apply with research or advocacy work with a maximum budget of 20,500 TL to the program, which will provide a total of 30 thousand Euros of support.
You can find detailed information and an application guide at www.ag-da.org. You can send your questions about the program and application to the e-mail address [email protected]
About Eren Deniz Tol
Eren Deniz Tol was dismissed twice by the Rectorate of Muğla Sıtkı Kocaman University for signing the statement titled We Will Not Be A Party to This Crime, and passed away on February 27, 2017, due to the illness he had been receiving for a long time. His students describe Tol with the words "the strongest woman I've ever seen in my life, one of the unique professors you feel at university when you first enter the class, and a brave woman who stands by the weak".
About NETWORK
Gender Equality Solidarity Network (AG-DA) is a network that brings together academics and civil society organizations working in the field of gender equality and tries to develop channels that will enable them to work together. The network operates as a part of the project "Developing Gender Equality through Solidarity Academies" jointly carried out by Ankara Solidarity Academy and the Birarada Association.