Image
As an association, we have been thinking since 2019, with the strategic partnership of DVV International-German Association of Public Vocational Schools and the support of the German Ministry of Foreign Affairs. As we approach the end of the Remember! Project, which we started with the hope of contributing to the culture of peace, you are invited to the last event of the year, Together from Today: Memory and Peace Meetings.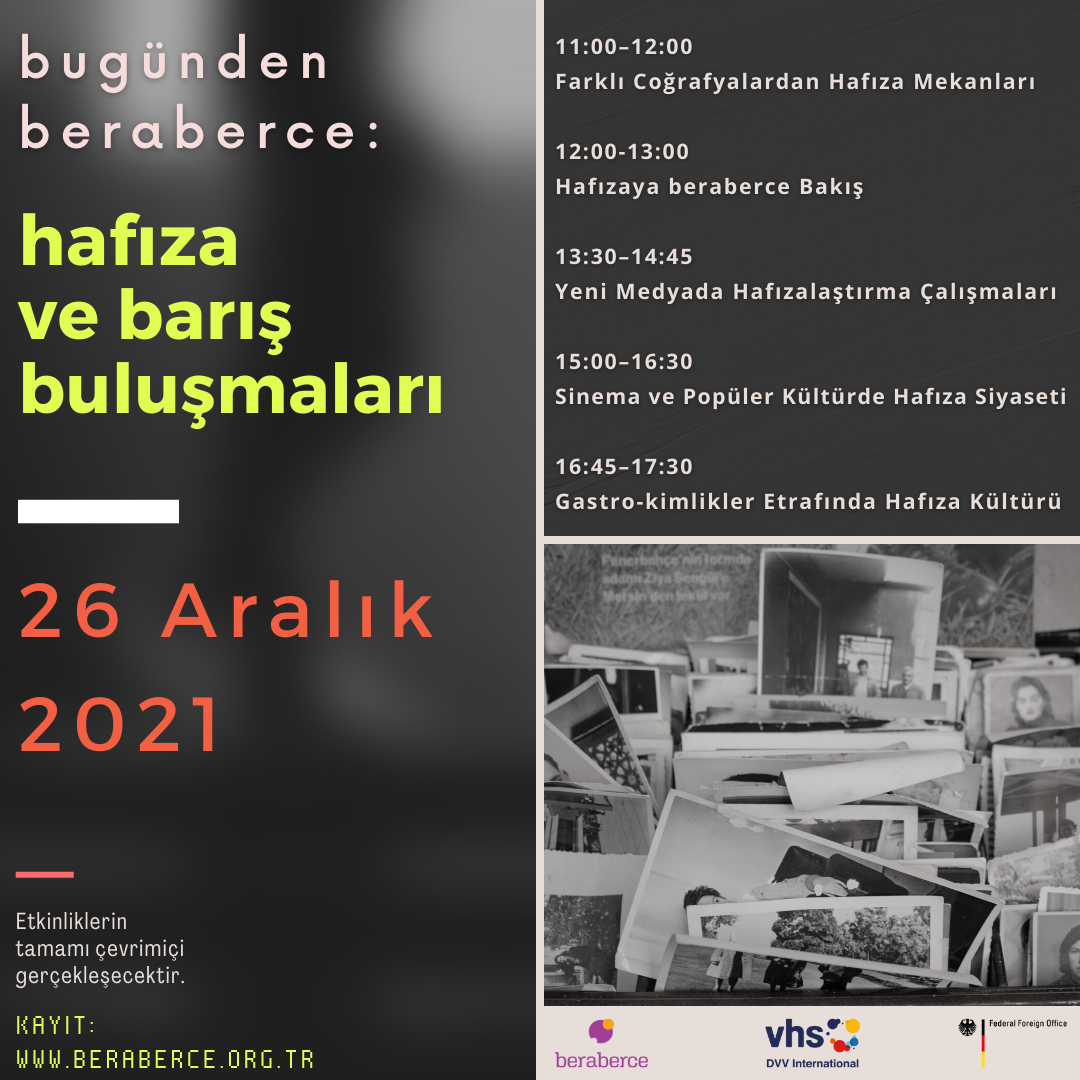 Together from today: Memory and Peace Meetings online December 26
At the Memory and Peace Meetings that will take place online on Sunday, December 26, we will try to think, talk and discuss memory and peace together with different examples from the world, in pursuit of their projections in different disciplines, from cinema to gastronomy, to new media.
Together from Today on 26 December: Memory and Peace Meetings will take place online between 11.00 and 17.30 in five different sessions.
We will listen to the experiences of places of memory from all over the world, and their approaches to memory and peace, with the session "Memory Spaces from Different Geographies Speak" at 11:00. Then, we will talk about memory, the ways of transferring memory from the past to the future, and the place of memory in the building of peace, in the "View to Memory" session under the leadership of Ayşe Öktem.
Rabia Demiroğlu, the director of the Workshop on Memorialization in New Media, where we will discuss memory studies and the effects of the new media on memorialization studies together.
Together from today: Memory and Peace Meetings, we will talk about the relations of memory politics with cinema and popular culture, and the representation of cinema in memorialization, with the participation of Nesi Altaras and Zeynep Ocak in the session of Politics of Memory in Cinema and Popular Culture.
The last session of the all-day event series is Memory Culture Around Gastro-Identities, where we will talk about gastro-memory with the participation of Anna Maria Beylunioğlu.
To participate in the events that will be held online via Zoom, simply fill out the registration form. The Zoom invitation will be sent to the email address you registered with.
For the event program and registration: https://bit.ly/berabercehbb
For your questions and detailed information, please contact us via an e-mail address 

[email protected]